The cotton seed oil tank is used for storage in the solvent extraction plant. There are two basic types of oil tanks: the crude tank and the product tank. The crude tank moves large quantities of unrefined crude oil from its point of extraction to refineries. The product tank is generally much smaller and is designed to move edible oil from refineries to points near markets. (Read more about Cottonseed Oil Mill Project Cost)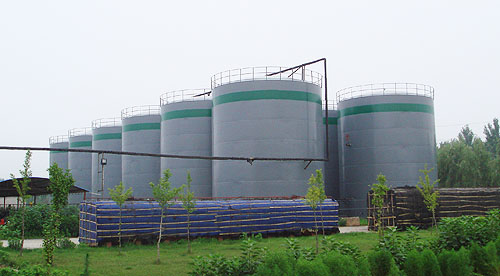 Our highly cost effective cotton seed oil is supplied on very large scale. Our Cotton Seed Oil is remarkable for its quality and is processed under the guidance of experts. We are committed to serve quality products at very genuine prices. (Read more about Cottonseed Oil Machine >>)
Typically the type of oil tank is selected based upon capacity and the vapor pressure of the product being stored. The working pressure required depends upon the vapor pressure, and the temperature variations of the liquid's surface.
Cotton Seed Oil Tank in Solvent Extraction Plant
The solvent extraction plant is designed to extract oil directly from oilseeds containing less than 20 percent oil after flaking, such as soybeans. The process is also used for prepressed or fully pressed cake derived from oilseeds containing more than 20 percent oil to include sunflower seeds, peanuts, cotton seeds, palm kernels, canola, copra, castor and others. Extraction is conducted on prepared seeds or, in the case of high oil content seeds, the cakes obtained through pre-pressing.